Consolidated Laundry Machinery (CLM)
Home

/

Consolidated Laundry Machinery (CLM)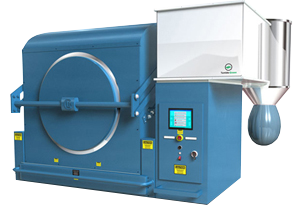 American-Made Commercial Dryers and Folding Equipment
Consolidated Laundry Machinery (CLM) is a leading manufacturer of high-quality industrial dryers. For over 40 years, CLM has led the industry with the introduction of Low NOx technology in heavy-duty, high-efficiency and high-productivity commercial laundry equipment. Located in Pomona, CA, CLM industrial drying equipment is proudly made in America.
Consolidated Laundry Machinery Industrial Dryers
Consolidated Laundry Machinery offers a complete range of single-door and two-door pass-through tumble dryers, as well as steam heated and gas fired commercial and on-premise dryers. These industrial dryers can handle massive loads, with capacities ranging from 250 lbs. dry weight to 1200 lbs. dry weight, and can tilt back or forward for easy loading and unloading. Some models also enable operators to load and unload from either side for improved workflow.
CLM industrial dryers can also be customized with a control panel (facilitating burner, blower and exhaust duct controls) on either side of the machine. Additional customizations ensure that CLM's industrial dryers will meet the needs and space of your on-premise or commercial laundry.
For versatile solutions which increase productivity and efficiency for your industrial or commercial laundry, while retaining a small footprint, Consolidated Laundry Machinery has you covered.
Tumble Green Commercial Drying Technology
The optional Tumble Green technology package is available for each model and size in the CLM industrial dryer lineup. Tumble Green incorporates a Low NOx burner for high-efficiency, low-emission drying. And, the Tumble Green logo is prominently displayed on the front of each dryer to ensure that visitors and regulatory agencies alike are aware of your facility's commitment to the environment.

Equipment Quick Links