Home

/

Dexter T-1200 Washer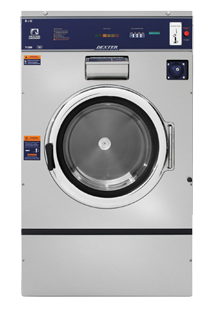 Dexter C-Series 80 lb. capacity
The Dexter T-1200 Coin-Operated Washer is an energy efficient machine. With a magnum load capacity, this commercial grade equipment can handle up to 80 pounds (36.3 kg) of dry weight.
The new C-Series is Dexter's most powerful, smartest lineup yet. Leading-edge technology has arrived with innovative DexterLive controls and the DexterLive.com web app, maximizing efficiency and revenue.
Dexter T-1200 Parts - Lookup & Order:
Accessories
Cabinet and Front Panel Group
Chassis and Drain
Control Panel
Cylinders, Seals and Bearings
Door Lock Assembly
Drain Valve Group
Drain Valve Group 50Hz Model
Electrical Components - Top Compartment
Electronic Acceptor Conversion Kit
Gear Motor Door Lock Assembly
Gear Motor Door Lock Assembly 50Hz Model
Labels and Diagrams
Large Door and Hinge Group
Optical Coin Acceptor
Rear View Access
Soap Flush
Top/Front Mount Detergent Dispenser
Water Inlet and Rear Channel (900+ Models)
Water Inlet Valve Breakdown
Wiring Harness Part
Dexter T-1200 Coin-Operated Washer Product Information:
Troubleshooting
Solutions to problems including: F1, F2, F8, F13, F15, F17, F19 fault codes (see manual - link below - for more). Water fill problems, leaks, coin counting, cylinder not turning, drain error, door lock error or unlocking problems, machine won't start, door handle problems, buzzing, faulty display, fuse/circuit breaker issues.
Programming & Service Videos
Dexter service videos covering basic repairs to laundry equipment to help minimize downtime in your coin-op laundromat. Topics include HOW TO's for common Washer, Dryer, Stack Dryer and Coin Drop installation, programming, maintenance and troubleshooting procedures.
T-1200 Vended Specification Sheet
A list of standard features and options as well as complete model specifications.
T-1200 Vended Operator's Manual
Installation and operating instructions including safety precautions and preventative maintenance requirements. Here's where you will find a full list of washer fault codes as well as suggested solutions. Helpful schematics included.
C-Series Washer Programming
Includes instructions for both DexterLive and Manual Programming.
C-Series Preventative Maintenance
Includes daily, monthly, quarterly, biannual and annual routines and tips for maintaining the washing machine to help keep it running at top performance.
C-Series T-1200 Mounting Dimensions
Helpful schematic.
Parts Lookup
Find part #'s for your Dexter Commercial Coin-Op Washers and Dryers and related Equipment.
Contact the Service Department