DexterLive Laundry Management Systems
Home

/

DexterLive Laundry Management Systems
Laundry management systems allow laundry owners to utilize technology to make managing coin-operated laundry equipment a breeze. Technology built into the controls on your Dexter washer or dryer can be used via downloadable software or a network for the equipment. Read on to learn about the ease of use in pricing, promotions, and cycle set-ups.
The new C-Series is Dexter's most powerful, smartest lineup yet. Leading-edge technology has arrived with innovative DexterLive controls and the DexterLive.com web app, maximizing efficiency and revenue.
---
DexterLive Controls
Offering more programmable options and features than ever before, they are designed to help you create the perfect settings for your business. Take advantage of the free access to DexterLive.com to make your DexterLive controls even more powerful.
Maximize Revenue Generation
DexterLive controls offer many upsell features and promotion options to help you maximize revenue generation. With multiple upsell features for both washers and dryers, you can choose the perfect cycle offerings to fit your business.
Enable DexterPay
Use DexterLive to set up and manage customers' access to your laundry equipment via the new DexterPay mobile payment app.
Simple Interface
For streamlining customer flow at your laundry establishment, all DexterLive controls share a common interface with durable rubber push buttons, an improved display, multiple language options, and common detailed customer prompts.
Programming
There is no need for proprietary software or devices with DexterLive controls: easy to access USB ports on all C-Series product allows you to program your machines faster and easier than ever. With free access to DexterLive.com, a web app, you can create user files and customize your equipment to fit your store and business needs. Customized files can then be saved and transferred to equipment via USB drive.
Maintenance & Installation
Perfect for any installation, innovative DexterLive controls offer adjustable final extract speeds on washers and many other customizable features, providing a flexible, efficient setup. With new quick test and error code features, you'll have all the tools and information needed to keep equipment running in top condition.
---
The DexterLive Web App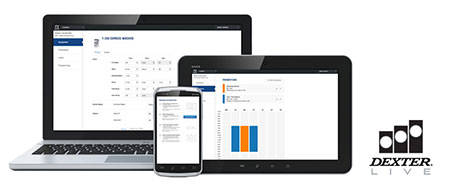 Take your business to the next level with the DexterLive Web App. New C-Series washers and dryers feature DexterLive controls and come with free access to Dexter's powerful new web app.
Easy Programming - Customize Your Laundry
With DexterLive.com, you can easily view, edit and save your settings for all of the available features on your C-Series products. Custom files can then be downloaded and transferred via USB, making programming your machines faster, easier and more convenient than ever before.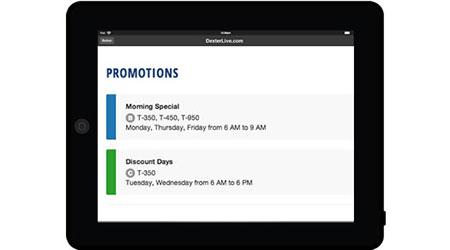 More Control & Ease of Use: Maximizing Revenue
Dexter's web app allows you to quickly create customized pricing and promotions for your Dexter equipment. With multiple upsell features available for both washers and dryers, you can choose the perfect cycle offerings to fit your business needs. You can also take advantage of the simple promotional pricing options to set up different pricing structures throughout the week to help balance your customer load and ensure maximum revenue generation.
Manage Your Team: Helping Around the Office
DexterLive.com's users section allows administrators and multiple users to access your online account, helping manage your laundry locations. With customizable settings, you can use this feature for business partners, managers, store employees, technicians or anyone else who helps you with your business.
To help track and manage your equipment, take advantage of the notes section of DexterLive.com to keep detailed maintenance and service records on each of your Dexter products.