Thermal Engineering of Arizona
Home

/

Thermal Engineering of Arizona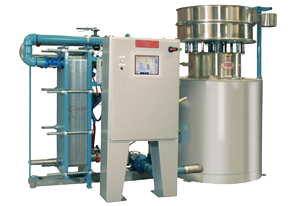 Since 1977, Thermal Engineering of Arizona (TEA) has been manufacturing a full line of equipment for the efficient use and reuse of water in commercial and industrial laundry facilities around the world. This includes Wastewater Heat Recovery, Fresh Water Heating and Storage, and Wastewater Cleanup systems
TEA's Shaker Screens for wet and dry particle separation, Stainless Steel Storage Tanks for liquid and dry materials storage, and Direct Contact Water Heaters have led the way in industry advances.
Made in the U.S.A., TEA's equipment is fabricated, welded, formed, and spun to the highest standards to provide years of service, even in the toughest environments.
Wastewater Heat Recovery System - features a thermal heat plate exchanger that increases efficiency by 300% over Shell and Tube heat exchangers. It is easily expandable and anti-fouling, and has practically no heat loss, so no insulation is needed.
TEA Smart Therm - controls waste and fresh water flows automatically, to allow for the maximum extraction and minimal wasted energy for pre-heating and tempered make-up water to the highest levels ever achieved.
On-board Smart Touch Control system - provides the ability to completely operate and monitor the entire system.
Additional exclusive features like shaker screen automatic solids collection, standard pre-piping and wiring, pneumatic injection cleaning, a hot filtered waste water feed tank and a safety filter, help ensure that your Wastewater Heat Recovery System is improving the efficiency of your on-premise or commercial laundry and your bottom line.
Waste Water Filtering System - features TEA's exclusive Turbo Pit Swirler which has revolutionized the industry, making mucking out pit and honey wagons a thing of the past. These systems also come with the TEA Shaker Screen, which efficiently filters on-premise and commercial laundry wastewater using a small motor which produces a gyratory motion, resulting in the separation of the laundry dirt and suspended solids from the hot wastewater.
TEA's stainless steel storage tanks are available in either T-304 or T-316L stainless steel and are flat bottomed or coned bottomed on legs. Specifically designed to commercial standards, these stainless steel tanks meet the storage and processing needs of most commercial and on-premise laundry operations.
Read about how one of our commercial laundry clients has achieved significant savings in time and energy by installing TEA equipment in their plant. Their experience is similar to many others.