Home

/

Parker Industrial Boiler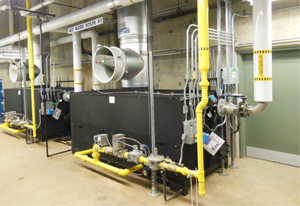 With over 65 years of experience and as the largest and most successful manufacturer of packaged steam boilers, Parker Boiler has continually lived up to its motto of "never compromise for quality or safety." Parker Boiler has earned a worldwide reputation as having the best steam boilers, water heaters and other hot water handling systems for the on-premise and commercial laundry industry.
Commercial Laundry Hot Water Systems
Parker Boiler currently manufactures steam boilers, feed systems, tray and spray type feedwater deaerators, stack economizers, blow-off tanks, hot water boilers, condensing hot water boilers, thermal fluid heaters, indirect water heaters, automatic water softeners, hot water storage tanks and heat exchangers for nearly every industry on the planet. Many of their machines offer low NOx operation and Parker also provides a variety of accessories to help your on-premise or industrial laundry perform at its top level.
Parker Boiler's steam boilers are designed in a range of sizes from 1-1/2 to 150 H.P. In gas, propane, light oil or combination gas/light oil firing for pressures between 15 and 250 PSI. Their five series of steam boilers are available in both indoor and outdoor models with the option of premix metal fiber low NOx models, for top-of-the-line green operation that will propel your industrial laundry into the future.
When you're looking for a quality, heavy duty packaged automatic boiler return system that is assembled and ready to install, look no further than Parker. These systems are ready to go for your on-premise and industrial laundry service and consist of a durable tank with automatic water make-up valve, suction stop valve, strainer, discharge check valve and heavy duty boiler feed pump with motor. Parker's feed systems are built with carbon steel lined or stainless steel feed and condensate return systems, between 1-1/2 to 450 HP and can perform at levels between 15 and 250 PSI, meeting all of your on-premise and commercial laundry needs.
For a hot water boiler that will perform when you most need it, Parker delivers a range of sizes from 300,000 to 6,800,000 BTU input in straight or propane gas fired models up to 300 PSI and temperatures up to 400 F. These hot water boilers for on-premise and industrial laundry services are constructed with a flexible bent steel water tube design for closed system building or process heating. Like their automatic boiler systems, Parker's hot water boilers are also available in low NOx models with indoor and outdoor options.
Parker's low NOx systems deliver the efficient and green performance your industrial or on-premise laundry demands. A "solution to pollution" these low NOx steam, hot water and thermal fluid heaters use Parker's low NOx Premix Burner System Technology, which provides low NOx and CO emissions, uniform heat distribution over the entire heating surface and improved efficiencies. The low NOx systems reduce your NOx output to 12 and 20 PPM at 3% O2 and CO levels below 100PPM, greatly increasing the efficiency and reducing the environmental impact of your on-premise or commercial laundry.
For all of your hot water and steam needs, Parker Boiler delivers the systems that will keep your on-premise and industrial laundry performing efficiently, with the confidence backed by an unrivaled standard of quality and safety.